A Revamped User Experience

Early May 2022 BrighterMonday launched a revamped version of our website in harmony with the industry best practices in tech and design. In case you missed it, this article will give you the highlights of what's new on the website.
A Clean and Modern User Interface: To keep up with best practices, the team used cutting-edge design systems to rebuild the existing user interface. The outcome was a minimalist-driven user interface that is less noisy and more intuitive.

Better Navigation: With new design systems, menu options were transitioned from the Hamburger Menu on the left side of the screen, to a drop-down menu at the top section of the screen. This new approach was adopted to make menu options more transparent to you.

A Solutions Comparison Feature: For the hiring managers, we added an extra feature that differentiates features across all products. This enhancement allows you to make the right purchase decision without any regrets.

The video below illustrates how we made it easy to access and understand the functionality of the website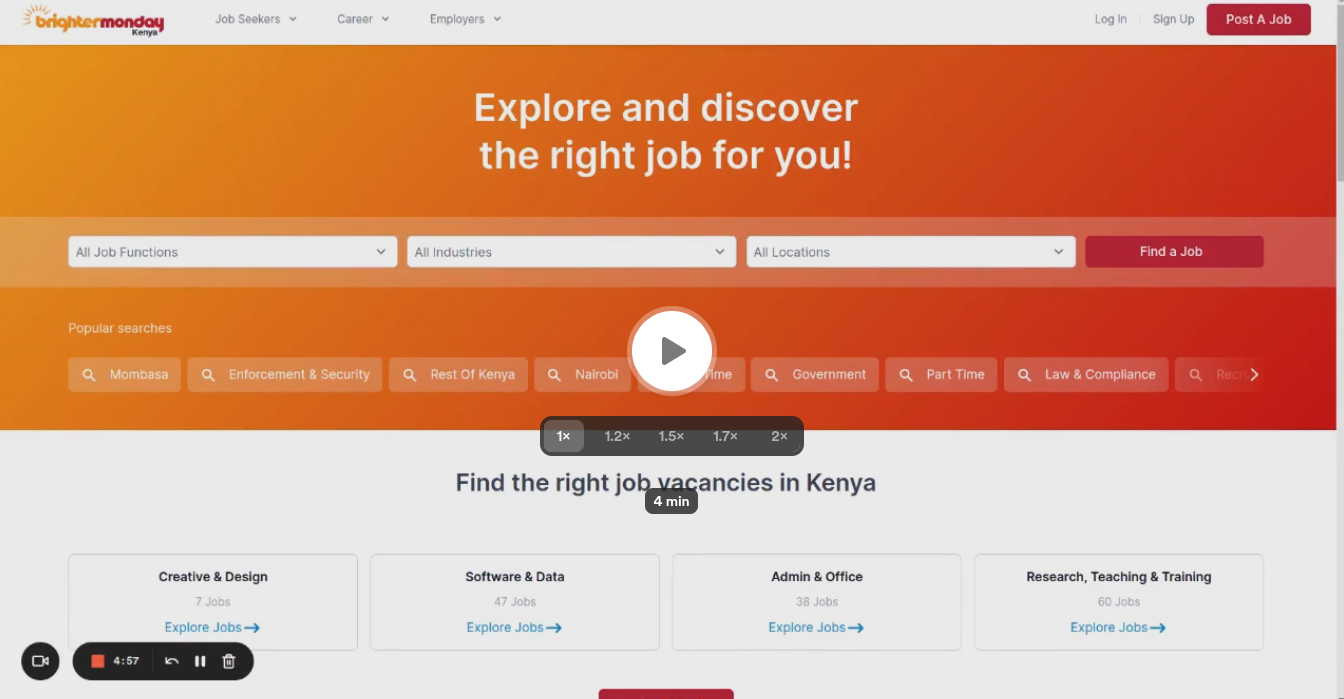 Stay tuned for more helpful improvements that will be rolled out in the next few months. Among the changes include the ability to narrow down the right candidates by pre-shortlisting applicants, while at the same time actively sending out feedback to candidates.
Related Articles

The Revamped Basic Job

In today's job market, finding the right candidate for a job can be a daunting task. With so many applicants per job, it can be hard to identify the right fit. However, our revamped Basic Job recruitment solution aims to make the process of matching ...

A Revamped Standard Job

According to the ILO, in 2022, the Unemployment Rate for young people in Africa was 12.7% compared to 14.9% at a global scale. This implies that employers will have to sort through thousands of applications just to find 1 right candidate for the job. ...

The New Purchase Flow

BrighterMonday recently revamped the process of purchasing our products from the Applicant Tracking System. The new process is simple yet efficient. Here is how the new process works: To start off, log into your employer account (ATS) then click on ...

Filtering and Sorting Applications

Filtering Applications The BrighterMonday Applicant Tracking & Management System avails you with powerful filters that enable you to make your shortlisting process easy by narrowing down a list of applicants to a manageable size. In the default ...

The BrighterMonday Applicant Tracking System

BrighterMonday provides direct employers and recruiters using our website, with an Applicant Tracking System (ATS) which is a recruitment software that assists employers/recruiters to manage their recruiting and hiring process. With a click of a few ...