Frequently Asked Questions About Our Mobile App

Here's a breakdown of the Frequently asked questions you might have about the Jobberman
Mobile app.
We've covered various topics to ensure you get all the important info from our
desktop.
site right on your mobile device.
How do I download the BrighterMonday Android App?

You can download the Android app from the Google Play Store. Simply search for "BrighterMonday" and tap on the "Install" button to download the app to your device



Do I need an account to apply for jobs

?



To get the most out of our platform you will need to create an account. The app is completely free to download and use. There are no hidden charges or subscription fees.
How do I sign in /Register on the app?



Click the drop-down menu on the top left corner of the screen

Go to "Log In" on the list

Click "SIGN UP" if you don't have an account yet.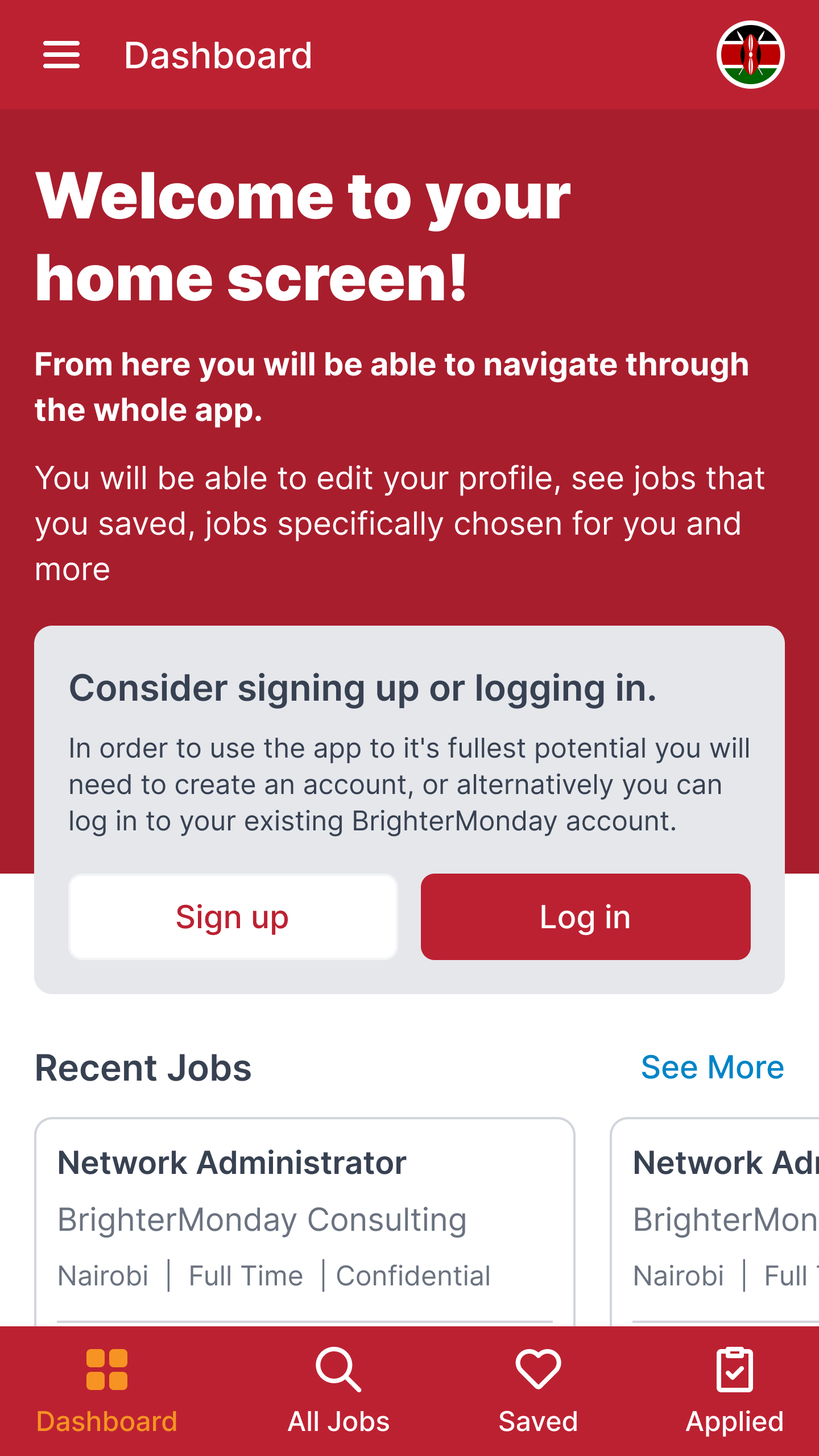 What do I need in order to register on the app?



You will need to fill in these details to finish the first step of your registration process:
Phone Number


Phone Number


Preferred Location

Date of birth

Gender

A strong password
What are the Key features of the app?



On the Application, you can:



Create your profile and show off your skills

Apply for jobs quickly

Create job alerts that match your needs

View a record of the jobs you have applied for and the status of the job application

You can also save jobs that interest you and come back later to apply.

How do I update my seeker profile on the app



On your dashboard, click the " Edit my profile" button and it will take you to a screen where you can update your details



Go to "All Jobs", search through the jobs listed to find the ones you fit in, then click "Apply'





.
Do I have to apply for all jobs through BrighterMonday app or go off the platform?



For jobs provided by employers through BrighterMonday, you will be able to apply directly with your CV and BrighterMonday profile. For job listings that provide a link to apply on a different website, you will need to complete the application process on the other website.
Is there a limit to the number of jobs I can apply for ?



No, there is no limit to the number of jobs you can apply to. Your Profile is forwarded to the employer for every application you make
How do I save jobs on the app?



To save your job on the app, all you need to do is click the heart icon on the job you want to save and your job will be saved automatically.




What if I don't find jobs that match my skills on the BrighterMonday app?



If jobs matching your profile are not immediately available, you can create job alerts.that mention your Key Skills, experience, functional area and we will send you jobs matching these criteria when they are posted
How do I create job alerts on the app?



On the bottom menu, click on the saved icon then navigate to job alerts. Click the plus icon to create a new alert

How do I Reset my password?



Click the drop-down menu on the top left corner of the screen

Go to "Log In" from the list


Click "Sign In with your Email"


Click "Forgot Password"


Related Articles

CV Services Frequently Asked Questions

In this section, we aim to address all your questions and concerns about our professional CV writing services. Whether you're looking to revamp your CV, tailor it for specific job applications, or simply want to understand how our service works, ...

Answers to Questions That Employers Frequently Ask

EMPLOYER ACCOUNT QUESTIONS What is BrighterMonday? BrighterMonday was established in 2006 and is Kenya's leading recruitment and HR services platform. We have over 800,000+ candidates and 30,000+ employers successfully using the platform to get ...

How to Add Custom Questions when posting a Job Listing

So far recruiters have only been able to add skills assessments at the point of publishing a job. However, with recent product improvements, we've made it possible to add custom questions for seekers to attempt while applying for the Job listing. ...

All You Need to Know About the Job Listings on Brightermonday

As your number 1 jobs platform, we seek to solve the major problem of the job seeker, which is not having enough jobs to apply for, we have thousands of jobs on our platform. Frequently Asked Questions What is a recommended job vs other market jobs? ...

A Revamped Standard Job

According to the ILO, in 2022, the Unemployment Rate for young people in Africa was 12.7% compared to 14.9% at a global scale. This implies that employers will have to sort through thousands of applications just to find 1 right candidate for the job. ...